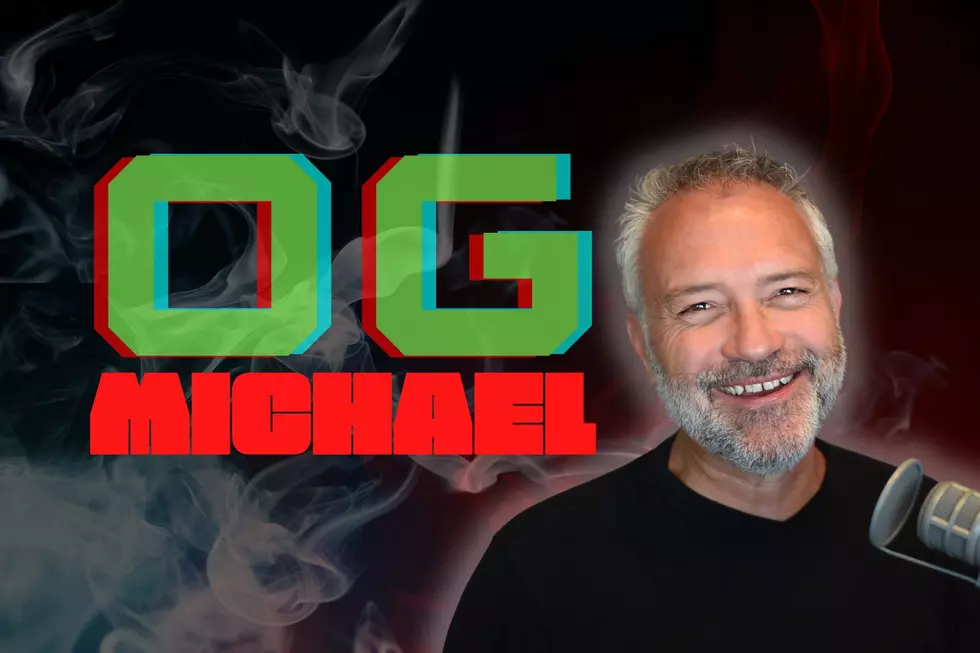 30 Things You Should Know About The OG Michael
Credit: TSM
Hey Mixers! Is that what I call you? Thanks for checking out our brand new radio station in Billings. Some of you may have heard my voice on other channels in Billings over the last few years, and there is a good chance that we're already friends IRL. I am absolutely thrilled to be back with you in the morning with my awesome new co-host Nikki Vega.
We can't wait for you to get to know us and vice-versa as you start your morning each day. To kickstart the introduction, here are 30 things you may not know about me.
Married late.
I didn't tie the knot until I was in my mid-30s. We have three older kids from my wife's previous marriage and the two younger girls together.
Viva Las Vegas.
I love Vegas. I got engaged there, got married there and I'm pretty sure we made a baby in Sin City.
Deadwood is my second choice.
When I can't afford a blackjack trip to Vegas, Deadwood does the trick.
So much body hair.
For some reason, it keeps getting thinner on top, but the rest of my body is a little bit like a Sasquatch. "Gross!", you might exclaim, but I'm not about to shave my chest hair.
Food. I love food.
If money was no issue, I'd eat fancy food every day (and probably weigh 600 pounds).
My smokey new hobby.
Santa bought me a smoker for Christmas last year and I really enjoy perfecting my craft.
Whatcha got in the cooler?
Beer snobbery is so annoying. I'll try just about anything when it comes to a cold brew, but to be completely honest...my daily coldies alternate between Miller Lite or Coors Light. Judge me all you like.
The scariest day of my life.
I'll never forget the phone call. My wife had just left her prenatal appointment, where the doctors discovered our unborn child had suffered a massive stroke in the womb. The following days and weeks were the most trying time of my life. We spent almost a month at the NICU in Salt Lake. She's my little miracle.
The 2nd scariest day of my life.
Shortly after I got married, I was playing golf one day and noticed I was getting double vision. I wasn't even drunk, I swear. Turns out, I had a benign tumor in a really bad spot in my head. On the day of my 8-hour surgery, I'll readily admit I was absolutely terrified.
Naps? Yeah right.
People always ask morning DJs if they take naps in the afternoon. Good luck with that at my house. We have FOUR dogs under one roof and all of them bark. A lot. Usually at nothing. It's great.
I'm left-handed.
No, I don't hold my pen weirdly.
Aries.
I don't know how much stock I put into horoscopes, but for what it's worth, I'm a Ram.
My birthday is April 1st.
My kids seriously think they can prank me on April Fool's Day. Ha! Good luck. I've experienced just about every prank you can imagine.
Summer is my season.
When fall turns into winter, I feel like I'm a dying plant.
Green thumb.
Speaking of plants, I'm a fairly decent gardener and grower of green things.
Cartoons? Yes, please.
Pre-streaming services, I acquired the entire Simpsons library on DVD. I watch Spongebob with my kids and Family Guy without them.
Two wheels are better than four.
That's my scoot in the picture. Unfortunately, I'm fairly certain I destroyed the motor three summers ago, probably by romping on it like a madman. I can't wait to get a new bike.
I dislike having my picture taken.
The only time I don't hate having my picture taken is when I've been out drinking. And those pics are always the worst. The next day, I'm like "um, maybe I shouldn't have posted that photo of me hammered at the bar."
I was threatened by a motel for leaving a bad review.
This summer, I spent a sleepless night in a dump of a motel in eastern Montana. The owner threatened to sue me after I wrote an honest review (with pictures) of the nasty place. She never sued.
Homeschooled.
Here's something most people don't know about me. I went to public school until 4th grade and that's when my parents decided they wanted to homeschool me and my siblings.
Born in corn country.
I was born in northcentral Iowa, the land of corn and hogs. We moved to Montana when I was 12.
Ten days in jail really sucked.
I'll save the details for the radio show. The short version: I once spent every weekend for five weeks one summer in the Yellowstone County Detention Center. Yes... it sucked.
Let's go fishing.
I don't get out as much as I'd like, but my fishing rod and tackle bag are usually in my car in the event I want to swing by the Yellowstone on my way home after work.
Speed reader.
I quickly devour fiction books. Stephen King is a favorite (I own almost all of his books). Lately, I've been getting into C.J. Box's series about a game warden in Wyoming.
Unbroken bones.
Despite my penchant for speed and risky behavior, I've never broken a bone.
I've been around a bit.
I have lived and/or worked in these states: Iowa, Minnesota, Utah, Colorado, and of course, Montana. I've visited most of the western states (including Alaska and Hawaii) but haven't been to very many places in the South or around the East Coast.
We had goats when I was a kid.
My mom discovered I was allergic to cow milk. Hence the goats.
Wanna buy a house?
A few years ago, while I was between radio jobs, I thought it would be great to get my real estate license. Selling houses isn't as easy as it appears on television. I've kept my license active and try to help out friends and family when I can.
Salty, not sweet.
When it comes to snacks, I'm more of a savory person. Give me a big bag of beef jerky or some salt and vinegar chips over cookies anytime.
Bring on the music.
I like all kinds of music, from classic country to modern rock and pop.