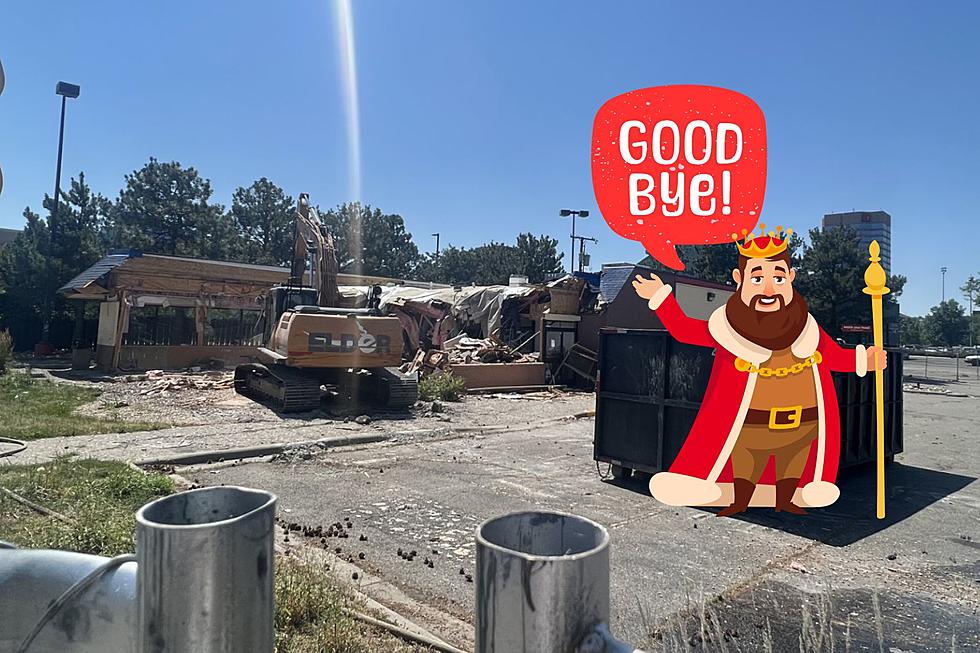 King No More. Downtown Billings Burger King Leveled, Bank Next?
Michael Foth, TSM/Canva graphics
Demolition crews were going full swing today (7/26) on the former downtown Billings Burger King, which abruptly shuttered its doors over Easter Weekend 2023. We happened to be driving by the site this morning and had to pull over for some photos. Because honestly, it's morbidly fun to watch things get demolished. I suppose arsonists get the same feeling from watching things burn?
How long will it take until the lot is bare? Probably not long.
Leveling the BK building as well as the former US Bank branch on the corner of 6th Avenue North and N 27th Street will likely go quickly, as workers appeared to be wasting no time on the project. Clearing the site is Portland, Oregon-based Elder Demolition, according to the sign affixed to the temporary construction fence surrounding the properties.
Sorry, I didn't capture any dramatic video.
I was hoping to get some awesome video of the excavator that was crunching away on the BK building, but when I stopped by today, the machine operator was busy carefully picking various small pieces of steel and other metals from the rubble and tossing them into what I assume is a recycling/scrap metal pile.
Is this corner cursed?
Many longtime residents of Billings probably have fond memories of hitting the Burger King drive-through at 2 am when the downtown bars closed. Or perhaps enjoying an early morning breakfast at the shuttered Denny's across the street. It closed after a fire caused substantial damage in 2021. The HUB is closed, as is the Downtown Conoco. That's an awful lot of vacant real estate on one of the busiest intersections in downtown Billings.
We're all wondering what will happen with the properties on that corner.
If we were actual journalists, we could probably make a few phone calls and fire off some emails demanding answers. But... we're not, and we're lazy. Rumors are flying that Billings Clinic bought the former US Bank, Conoco, and Burger King lots at the intersection of 6th and 27th and plan to turn the whole area into hospital parking.
Tax records indicate that this is not the case.
Not yet, anyway. An LLC named Potatohead Downtown took ownership of the US Bank lots on 5/9/2022. The three lots that comprise the former BK are still owned by BK RE, LLC. And the vacant Conoco property is currently owned by an entity named RMG Inc.
What would you like to see in this neighborhood?
Let's be honest... the area struggles with a transient issue. I'm not sure what type of business would do well on any of the corners of 27th St N and 6th Ave (although the sketchy Holiday store always seems to be busy). The intersection is certainly in a high-traffic count part of downtown, with N 27th a major thoroughfare from I-90 to the hospital corridor and airport. Perhaps a hotel? A high-rise apartment complex? Another coffee shop or casino? Hospital parking?
I'd love to hear your feedback. Email Michael@BillingsMix.com, reach out on our Mobile App, or leave a comment on Facebook.
LOOK: The longest highways in America