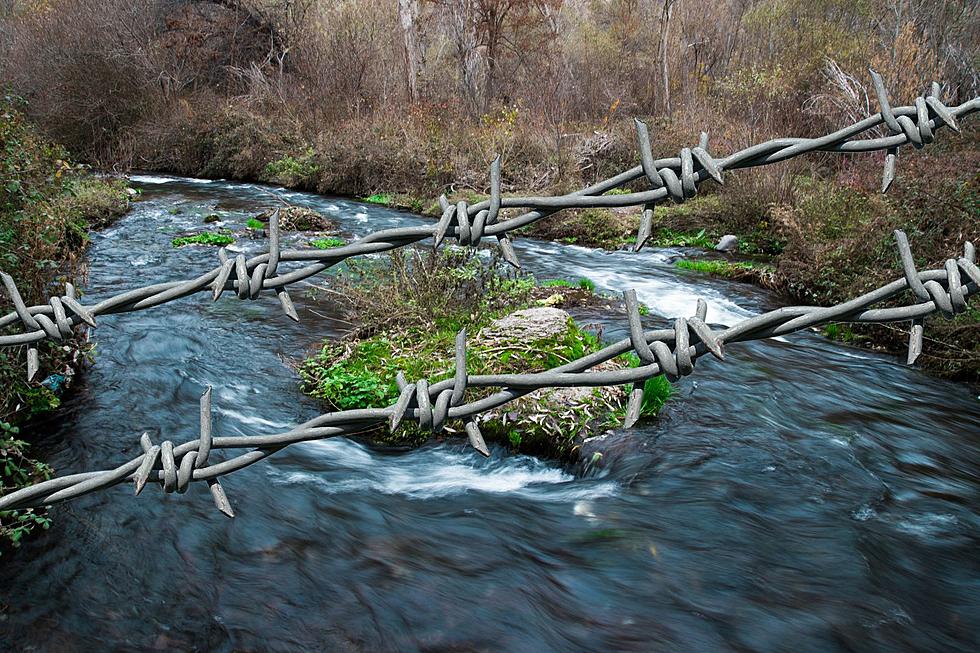 Yes, Montana Landowners Can Put a Fence Across a River
Canva
Monday (5/22) I saw a Tweet from a Montana man I follow named Tony Bynum. He had shared a couple of photos showing what appears to be at least three stands of barbed wire hanging in the middle of a portion of the Dearborn River, along with what appears to be a separate section of metal fencing closer to the riverbank.
"This can't possibly be legal!" I thought, as my blood pressure began to rise. The original post was shared on various Facebook pages. Comments on social media were passionate, to say the least. Supposedly, the fence in this story was not put up intentionally but drifted across the river during flooding.
One rancher dug in with his comments that it is legal for private property owners to put up a fence over a river or stream if they choose. Many other commenters argued that rivers and streams cannot be blocked from boaters, floaters, fishermen, etc. as long as recreationists stay below the high water mark and they access the river from public areas. Most of us are familiar with the basic gist of Montana's river/stream access rules and regulations (detailed PDF in link).
Yes, property owners can put up a fence.
Carefully reading the rules, you'll find a paragraph that reveals,
In all cases recreationists must keep portages to a minimum, and should realize that landowners may place fences and other barriers across streams for purposes of land or water management or to establish land ownership, if otherwise allowed by law.
Kathy Hefferman, a retired special education and science teacher from Missoula, wrote an excellent piece (published by Montana Fish, Wildlife & Parks in 2021) that details her encounter with a fenced-off river. Not only did they encounter barbed wire while canoeing and kayaking down their favorite river, but the fence was electrified too. Talk about a shocking encounter.
A balance of property rights and river access.
Electrifying a fence and not providing a float-over cable, a float-through gate, or a portage gate on a river or stream does seem a little extreme, but property owners do not have to offer those niceties. Barbed wire fences are certainly a hazard for floaters and boaters, especially during high springtime runoff. If the fence is poorly marked with minimal or non-existent hazard streamers or flags, you might not see it until it's too late.
You're more likely to encounter a fence on smaller rivers and streams.
Obviously, most encounters with fences crossing rivers will likely be found on smaller tributaries (such as the Dearborn, Shields River, Clarks Fork, etc.), since it's nearly impossible to put a fence across the Yellowstone River or Missouri - thankfully. Hitting a fence could be deadly on a jet boat cruising at 35 MPH.
How do you feel about landowners putting fences across a river on their property? You can reach me at Michael@BillingsMix.com
LOOK: The least obedient dog breeds