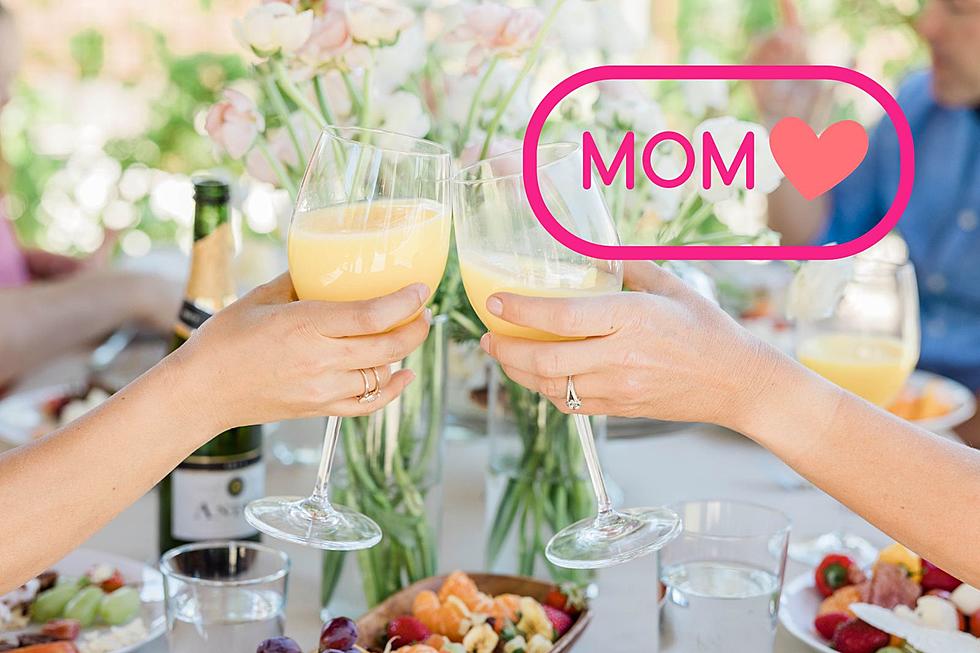 13 Tasty Options for Mother's Day Brunch in the Billings Area
Canva
Mother's Day is Sunday, May 14.
Heading out for brunch with your mom is a tradition for many. At my house, we're still trying to narrow down our Mother's Day plan this year. My spouse has hinted where she'd like to go for brunch, but we've got kind of a crazy weekend.
Due to a scheduling coincidence, Mother's Day is also the day we're allowed to paint my graduate's parking spot at his high school for part of their Senior Week stuff. Not exactly how she wants to spend her day. But that's kind of how it goes... moms give and give, just trying to keep their family and household from falling apart, right? Even on "their" day.
Many restaurants in Billings and surrounding communities offer Mother's Day brunches or a special menu this Sunday. Most of the brunch offerings include a variety of flavorful proteins (ham, prime rib, turkey, etc.), tasty salads and sides, various delectable desserts, and a special mimosa or other beverage tailored for Mom. Many are buffet-style, and others are served more traditionally.
Perhaps your brunch reservations are already locked down, but if you're still looking for ideas we've compiled a list of restaurant options that may have slipped your mind.
Cork and Barrel - 1417 38th St W, Billings, MT 59102
Located back behind the Red Door, they're serving brunch from 10 -3.
Montana Jacks - 520 Hansen Lane, Billings, MT 59105
Next to Albertsons in the Heights, fans love their food and staff. Their brunch buffet is from 8 am to 2 pm on Sunday.
Western Empire Emporium - 3141 King Ave W, Billings, MT 59102
The Emporium is serving fresh-carved ham, prime rib, and turkey with all the classic Mother's Day trimmings at their brunch buffet from 10 am to 4 pm.
Montana Sky Restaurant - 27 N 27th St, Billings, MT 59101
High atop the DoubleTree Hotel Downtown, give Mom some of the best views in Billings at their brunch. Reservations are required.
Craft B&B - 2658 Grand Ave, Billings, MT 59102
Craft has brunch every Saturday and Sunday from 10 am to 1 pm, but for Mother's Day, they are requesting reservations.
High Horse Saloon & Eatery - 3953 Montana Ave, Billings, MT 59101
Everybody loves the High Horse and their Mother's Day Brunch menu sounds delish, with prime rib and smoked chicken quarter carving stations and tons of your favorite HH sides. It's from 9:30 am with the last seating at 2:30. Reservations are required.
Montana Club - 1791 Majestic Ln, Billings, MT 59102
This is where we went last year, and our family really enjoyed it. They're open from 9 am to 9 pm on Sunday, with the Mother's Day menu featured from 9 am to 2 pm. Full menu and dinner specials are offered from 2 pm to close.
TEN at the Northern - 19 N Broadway, Billings, MT 59101
TEN does a fabulous job on their Mother's Day Brunch. It's on the spendier side, but SO worth it. Reservations are required and the brunch is from 10 am to 4 pm.
Diamond X Beer Co. - 5417 Hawk Creek Ave, Billings, MT 59106
The food at Diamond X is phenomenal and they'll be offering a Mother's Day prime rib brunch buffet from 10 am to 2 pm. Unlimited mimosas (beginning at 11 am) can be added for just $15.
Palace Bar & Lanes - 305 E Main St, Laurel, MT 59044
The Palace recently underwent a remodel and menu refresh. They'll be offering Mother's Day specials this year with a brunch buffet from 10 am to 2 pm and a dinner buffet from 2 pm to 9 pm.
Cajun Phatty's - 2564 King Ave W Suite F, Billings, MT 59102
Celebrate Mom with a hint of southern flavor, with Cajun Phatty's brunch. It's from 10 am to 3 pm and they offer a special bloody mary and mimosa menu.
Black Bunker Bar & Grill - 3429 Briarwood Blvd, Billings, MT 59101
Golf course restaurants around town have been stepping up their game. If you haven't been to Briarwood lately, come check out their Mother's Day Brunch with seatings at 9 am, 11 am, and 1 pm. Membership is not required, but reservations are. Moms eat FREE!
Pronghorn Grill - 1930 Clubhouse Way, Billings, MT 59105
Up at Lake Hills, they've been tweaking the menu at the Pronghorn Grill as well. Mother's Day Brunch is from 10 am to 2 pm, with carved turkey and beef short ribs getting the spotlight, along with traditional sides. Reservations required.
Brunch not your thing? Read More: Skip Brunch. 6 Fun Things You Can Do With Mom in Billings Instead
LOOK: Baby boomer baby names that have gone out of style
Using info from the Social Security Administration's baby name database,
Stacker
compiled a list of baby boomer baby names that have declined in popularity.