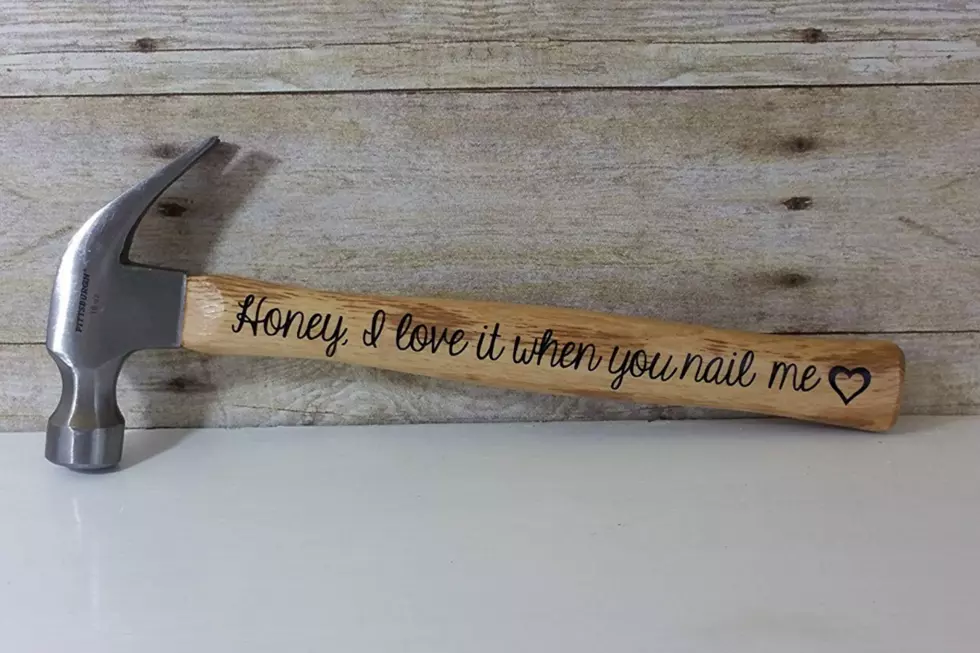 Six Hilarious – Completely Inappropriate – Valentine Gift Ideas
Credit: Amazon
Flowers and chocolates, while expected, are so cliche. Anyone in a relationship longer than a week understands that humor is a large part of making things work. If you can't laugh with each other about the struggles life throws your way, then you are going to have a difficult time.  I'm not saying you should skip the flowers or a nice dinner, but if you really want to make Valentine's Day special this year, at least consider adding one of these hilarious and completely inappropriate gift ideas I found on Amazon to your romance package.
As Amazon Associates, we earn on qualifying purchases.
Let's start with the "Honey, I love it when you nail me" hammer. I love having fun with words and puns... and this hammer is definitely pretty punny.  You can get it for just $29.99. Sellers state:
This hammer is for display purposes only. However we all know if anyone needs a hammer and it is hanging on the wall it may be used. With this in mind, We have clear coated the vinyl to help protect the personalization from emergency use. Not for moderate, everyday or heavy use.
Nothing better than some candles, your favorite songs playing in the background, a fire in the fireplace and a bottle of wine. Kick the romance up a notch with this quality stemless wineglass. Thoughtfully scripted with the tender phrase, "I love to wrap both my hands around it and swallow", your sweetheart will surely enjoy this gift year-round. Proudly made in the USA, sellers state:
Every time they drink their precious wine they will think of you.
Speaking of wine... it's no fun if you can't get the bottle open. Let these cute little guys help! Great for screwing and plugging, the 3-piece "Happy Man Bottle Stopper" set is available for $7.98 and will surely pair well with your favorite red or white bottle of wine.
Alrighty then... This one gets right to the point and is pretty much self-explanatory. At risk of sending my HR department into a total tizzy, I'll let the sellers describe this beautifully designed, $14.95 gift that comes in a nice little blue velvet gift bag:
VALENTINE GIFT FOR HIM - Perfect token for a surprise treat. Give a flirty Valentine's Day gift that your husband or boyfriend will soon not forget. When he pulls out this 1.5 inch token from its velvet bag you're sure to get a smile.
Once you get the After Sex Towel, you'll never have to use a face washcloth or hand towel again (or the dirty towel you grabbed from the laundry hamper). Even worse, risk having your partner yell at you about using the "wrong towel" for your sexy business. I didn't think there were wrong towels and right towels for naughty time - but trust me - there is. This 11x18 inch cotton/poly blend towel is just $16.95 and is sure to last through many uses. Sellers say:
Our towels are funny, practical, and are sure to bring smiles!
Unless you are into some really weird stuff, there is not much sexy about going to the bathroom. BUT!! Hear me out! This gift just seems so thoughtful. Your lover will be reminded of you at least once per day, and perhaps many times more. It does seem a little pricey, at $13.95 for 200 sheets of two-ply toilet paper, but the TP features "smudge-free ink", which is a nice touch. And really, does price matter when it comes to love? No. It does not. Sellers say:
Nothing says 'I love you' more than giving a sheet!
If you have found any other awesome, completely inappropriate Valentine's Day gifts available locally, share them with us! Drop a comment or send us a message on the Mobile App.
Celebrity Kids Who Look Exactly Like Their Famous Parents