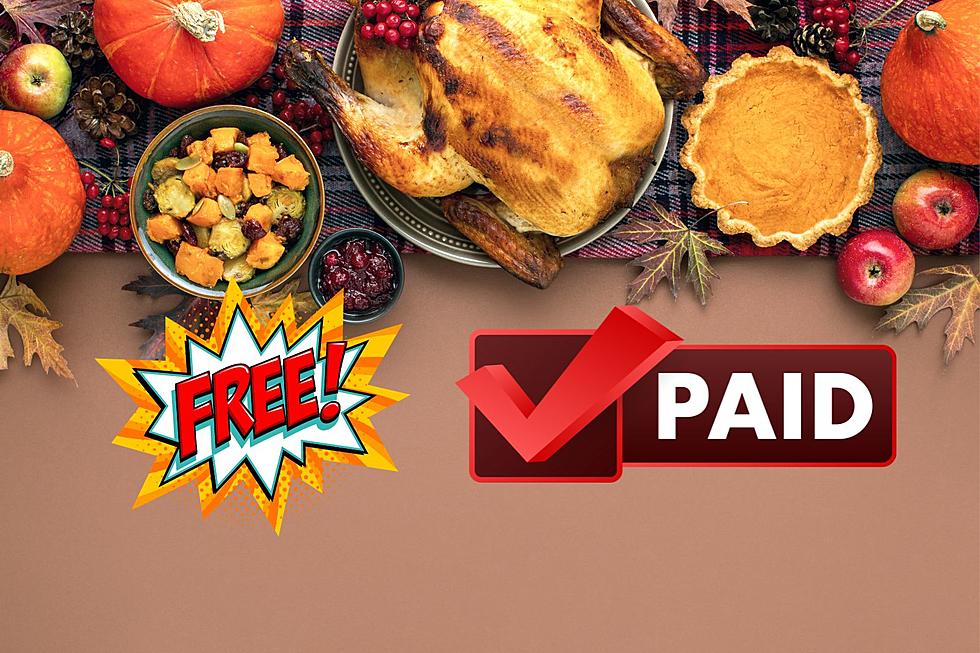 Thanksgiving Meal Options Across Billings, Free And Paid, For 2023
Credit: Canva
This year for Thanksgiving, there are PLENTY of options across Billings for anyone needing a meal, paid or free. In the past few years with COVID, those options dwindled down, but it seems many businesses are back to providing for those who want options.
We'll update this article as more information comes in, so be sure to Bookmark it! If your business is doing something special for Thanksgiving, or you know of someone doing something special, email me and I will get it on the list. josh.rath@townsquaremedia.com
FREE FOR ALL
First, we'll highlight the FREE options we were able to find.
Flakesgiving Meal Boxes
If you are simply looking for a meal that you can cook with the family, our own Flakesgiving Meal Boxes are an option. You can find out everything on getting a box this Saturday at Metra Park or having one delivered, by clicking the button below.
Montana Rescue Mission
This year once again, Montana Rescue Mission is offering the MRM Shelter Guests a Thanksgiving Day Meal from 12 Noon to 1 PM, and will follow that by opening the doors to everyone in the community from 1 PM to 3 PM. If you need a meal, MRM will help.
They are also providing you with two options. You can either dine in at MRM or grab a to-go meal.
2822 Minnesota Avenue, Billings
Warrior Wishes Vetsgiving
On November 21st, from 9 AM to 3 PM, Vets will be helping Vets locally by providing their Vetsgiving Meals at multiple pickup locations, and you only need to verify your veteran status to qualify.
Hardin Chevrolet in Hardin
Pucchioni's in Roundup
Main Street Perk in Laurel
Beartooth Market in Red Lodge
VFW Post 1634 - State Street, Billings
VFW Post 6774 - Billings Heights
American Legion Post 4 Grateful Giving
Offering Grateful Giving boxes, which are a full Thanksgiving dinner. Filled with turkey, corn, stuffing, mashed potatoes, green beans, cream of mushroom soup, gravy, fried onions, and cranberries.
If you want to sign up to receive a box, call Maria at 406-656-1510, or email gratefulgivtal4@gmail.com.
Alternatively, you can register yourself instantly using the button below. You must provide a DD214 or Military ID in order to receive a Grateful Giving box.
You'll remain in your vehicle to collect the box, someone will verify your information, and bring the box to your vehicle. This will all be on the West Side of the American Legion Post 4 Parking Lot.
PAID OPTIONS
If you are fortunate enough to be able to go out on Thanksgiving and pay for a meal, there are plenty of options for you to pick from. Again, if your business is having a Thanksgiving meal and I missed it, email me at josh.rath@townsquaremedia.com.
Western Empire Emporium Thanksgiving Buffet
(Carved Turkey, Carved Ham & Prime Rib, Candied Yams, Vegetables, Mashed Potatoes/Gravy, Wild Rice, Homemade Dressing, Salad Bar, Cranberries, Dinner Rolls, Variety of Desserts, Coffee)
$49.95 for Adults, $34.95 for Seniors, Children 5 to 10 $11.95, Under 5 Free (With Paid Adult Buffet)
11 AM to 6 PM on Thanksgiving - No Reservations Will Be Accepted
Cracker Barrel
Every year, Cracker Barrel is one that offers a meal option. This year, 4 options are provided:
Be sure to pre-order online now, if you want a meal.
Denny's
Starting November 17th, you can pre-order Denny's Turkey & Dressing Dinner Bundle on Dennys.com
The meal includes a Tender-Carved Turkey Breast, Savory Bread Stuffing, Red-Skinned Mashed Potatoes, Turkey Gravy, Cranberry Sauce, and your choice of a second side:
Herb-Glazed Corn
Fresh Vegetable Medley
Creamy Mac & Cheese
Also, Denny's is offering two desserts. Pumpkin and Pecan Pies.
Perkins Holiday Delights
Perkins is offering their seasonal "Holiday Delights" menu.
TEN at the Northern - Reservations Needed
The TEN is offering its Thanksgiving Buffet once again.
$75 for Adults, Kids 6 to 12 $25, 5 and Under FREE.
Options this year include:
Mains

Heritage Turkey
Prime Rib
Atlantic Salmon
Dessert Display

Extras

Crab-Stuffed Mushrooms
Bacon Deviled Eggs
Roasted Tomato Spinach Dip
Cheese + Charcuterie Display
Autumn Squash Salad
Southern-Style Squash Casserole
Cornbread Stuffing
Candied Sweet Potatoes
Classic Pumpkin Pie
Apple Pie Basque Cheesecake
Chocolate Pecan Pie Bars
Sweet Potato Chiffon Pie
Dark Chocolate & Pumpkin
To make a reservation, call 406-867-6774. The TEN includes complimentary self or valet parking.
Buffalo Block Prime Steakhouse
Thanksgiving Specials are for pickup on Wednesday, The 22nd, between 3 and 9 PM.
Orders must be submitted by this Sunday at 5 PM, and there is limited availability.
Options include:
Half Bone-In Prime Rib Dinner - $350
Whole Bone-In Prime Rib Dinner - $500
Half Dozen Buffalo Block House Rolls - $10
Dozen Buffalo Block House Rolls - $18
Click the button below to order.
A Taste of What Flakesgiving 2022 Was Like
Gallery Credit: Josh Rath