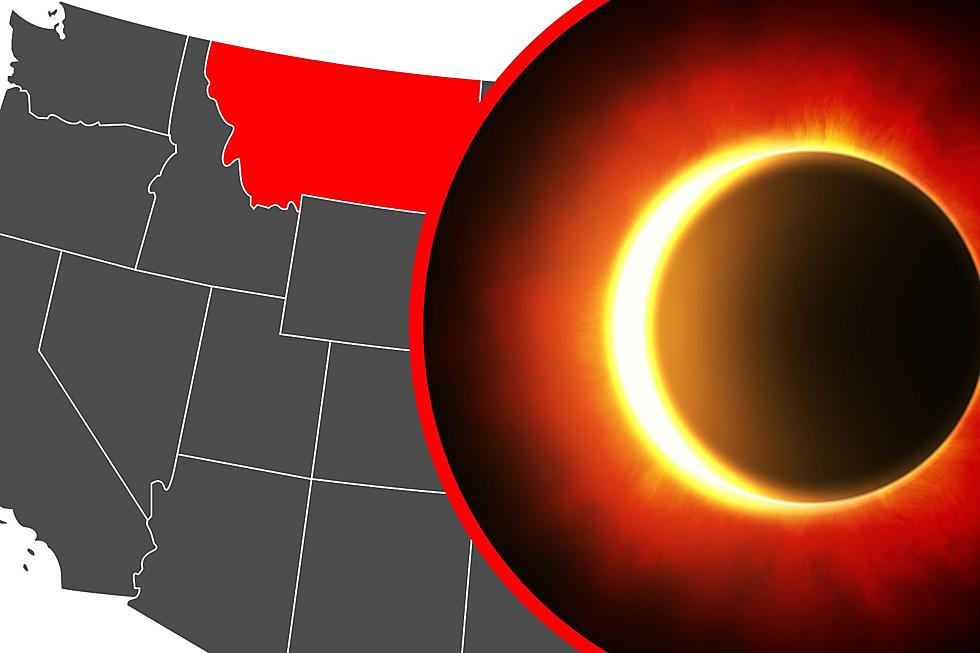 Yes, You Can See the Eclipse on Saturday in Montana. Tips Here
Canva
Did you throw away your groovy cardboard eclipse glasses from 2017?
Shoot. You should have kept them because another solar eclipse will be visible this weekend across a large portion of North America, and like we learned in '17... you can't stare at the sun without those special glasses. Unless frying your retinas is something you think sounds fun (it's not).
In 2017, much of Wyoming was directly in the path of totality during the eclipse, giving Montana an excellent view of the phenomenon. All my coworkers at the time dropped what we were doing to go outside and watch, and it was quite eery. The temperature dropped like 10 degrees and birds started chittering like it was dusk. For a few minutes, the midday sun appeared more like sunset or sunrise sun.
A "Ring of Fire"
The upcoming solar eclipse on Saturday, October 14th, 2023 is not the same as a total eclipse, where the moon appears to block out the entire sun. This time around (because of the distance between the moon and the sun) it will be a "ring of fire" eclipse. Its path across the US is roughly between Eugene, OR, and San Antonio, TX. NASA provides a graphic (drawn on Windows 95?) below illustrating the path.
What time can we see the eclipse in Montana?
Montana Tech in Butte is hosting a viewing party on campus and they describe what we can expect to see in Montana,
From areas in North America not in the Path of Annularity, the eclipse will appear crescent-shaped. 
Walt McIntosh, President of the Montana Youth Aerospace Project (MYAP) and a Civil Air Patrol (CAP) Aerospace Education Officer adds that in Butte, Montana the best time to view will be at 10:27 AM with 73% obscuration. In Billings, peak time is 10:30 AM. If you live somewhere in between, plan accordingly.
We won't be able to see the dramatic "Ring of Fire", but the skies will get darker for a few moments; weather permitting, of course. As of 10/9, Saturday's forecast for much of the state calls for sunny skies.
Scenes from the August 21, 2017 Solar Eclipse
Gallery Credit: Getty Images