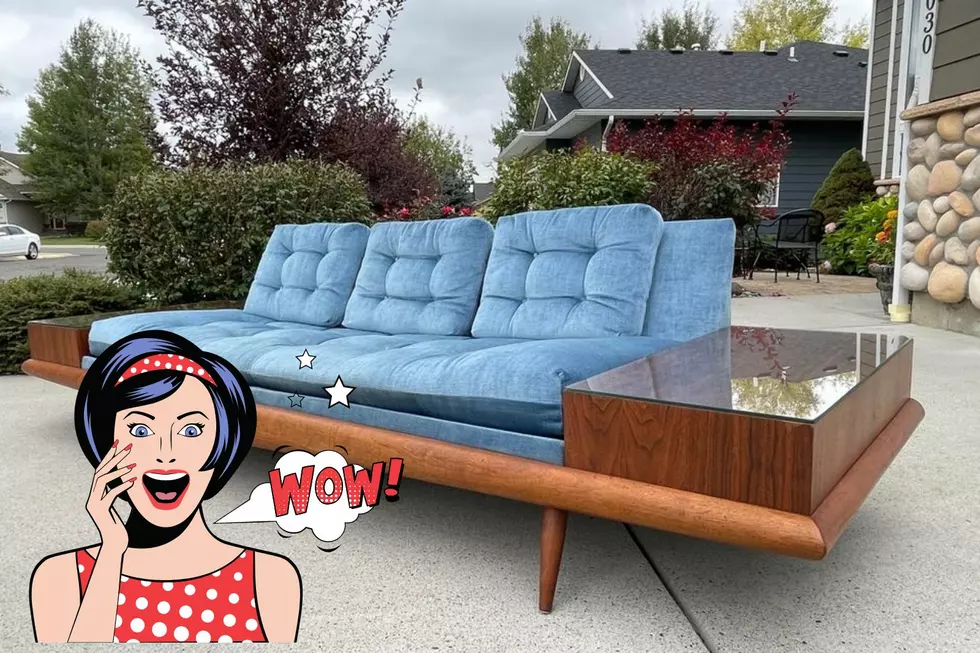 Thrift Shop Treasure. A Rare, Vintage Sofa Was Found in Billings
Photo by Rein Gillstrom, used with permission
Update 9/28 - I received a message today from the seller that the couch has sold (for full price) to a Montana buyer. 
-Original story below-
Like many of you, I belong to a number of various local Facebook "For Sale" pages, so perhaps this amazing blue couch has already appeared in your feed. If not, you've got to check out this retro (and highly collectible) baby blue couch that recently hit the market in Billings.
Mid-Century Modern is hot right now.
According to Architectural Digest, Mid-Century Modern designs were popular between 1935 and 1965, but when most of us think about mid-century, we think of the late 50s and early 60s. Trendy homes at the time were being built with lots of big windows, open-beam ceilings, and flat surfaces as America roared back from World War II. It seems like just about everything at the time was designed with sleek edges and a futuristic, aerodynamic style as we entered the Atomic Age, from refrigerators to coffee tables.
Hey, my grandparents had a couch like that!
Sure, your grandma and grandpa may have had a sofa that resembles this piece of furniture, but it's highly unlikely that they had a rare, authenticated Adrian Pearsall couch. The New York-born architect and designer created popular, unique pieces from the late 50s up until the 70s. His original chairs, tables, and other items can fetch thousands of dollars. You can browse some of his work (and staggering-to-me prices) HERE at Chairish.com.
The sofa has a great story.
Seller Rein Gillstrom shared some really interesting history about the collectible sofa in his marketplace listing,
 It had a tag from Leo's Upholstery on Broadwater Ave from 1980 (still in business). They'd likely repaired the main cushion base cover and possibly the 20 year old straps (in 1980). It was then photographed, partially disassembled, repairing a couple of sagging broken straps and adjusting the top dust cover and put a new bottom dust cover underneath.
Somewhat amazingly, Gillstrom purchased the couch at a local junk store. He said they were able to eventually contact family members of the original owner and they were not interested in having the rare sofa back.
The sellers gave the couch another round of professional repairs in September 2022, replacing all of the support straps and other touch-ups. The owners believe the vintage sofa retains its original blue cushion fabric, but that hasn't been 100% confirmed.
Authenticated by the designer's family.
Like any collectible item, antique or vintage furniture prices can fluctuate, depending on the latest trends. The seller has this unique piece listed for $6,250. My knowledge of collectible furniture is basically none, but after a very quick internet search on the designer's pieces, I'm sure it will sell quickly. The listing includes interesting authentication notes from the Pearsall family as well as other documentation about the rare sofa's history. See the post HERE. 
LOOK: What are the odds that these 50 totally random events will happen to you?
Stacker
took the guesswork out of 50 random events to determine just how likely they are to actually happen. They sourced their information from government statistics, scientific articles, and other primary documents. Keep reading to find out why expectant parents shouldn't count on due dates -- and why you should be more worried about dying on your birthday than living to 100 years old.